Shadowbinders
Shadowbinders is a young adult fantasy webcomic about Mia White, who is teleported to the 'steamfantasy' world of Belatyr, thanks to her grandfather's antique ring. There she meets a mage named Crimson Rhen, who is the captain of the infamous airship, The True North. The comic is written and drawn by husband and wife Kambrea Pratt (writer) and Thomas "Kneon" Pratt (artist). It can be found at here
Shadowbinders Wiki is a encyclopedia dedicated to documenting everything about the Shadowbinders webcomic. All pages are open to editing and you are free to join and help us!
33 Articles since November 18, 2012.
Featured Article
Mia White is the main protagonist of the Shadowbinders webcomic. She is a 17 year old who is able to teleport to and from Belatyr by using an antique ring that her grandmother found among her grandfather's old things.
Before receiving the ring, Mia frequently had many strange dreams. One of these dreams involved an airship battle and the crew of these airship. One day Mia's paternal grandmother arrived with gifts for both Mia and Michael. She gave Michael a Galatic Aces game. Afterwards she gave Mia an old journal and a locked puzzle box that once belonged to Mia's Grandfather. That night, Mia tried to open the puzzle box. While struggling to get it open, she cut her finger. When she tried again, it opened easily revealing a ring. After putting on the ring, she teleported onto an airship called the True North. (See More...)
Navigation
Store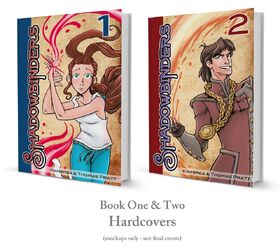 Buy some swag from the Shadowbinders store found here.
Ad blocker interference detected!
Wikia is a free-to-use site that makes money from advertising. We have a modified experience for viewers using ad blockers

Wikia is not accessible if you've made further modifications. Remove the custom ad blocker rule(s) and the page will load as expected.